Retirement Planning
While your retirement date may still be several years down the road, and the goals you set today may seem even further off, it is never too early to begin preparation. Your retirement dreams can be pursued in the future, provided you understand what is required to fulfill them. We help you set a course to address the challenge of doing so, and regularly review your progress along the way. Even if you can only save a small amount at the outset, the key is to start early, continue on a regular basis, and adjust your goals over time, as your circumstances change.
If you're on the opposite end of the spectrum, and ready to retire, let us help you create a retirement income plan with your nest egg. We can custom design an investment strategy that fits you, and caters to your individual situation. We've advised many local retirees throughout the years, and look forward to continuing to help others pursue their goals in retirement.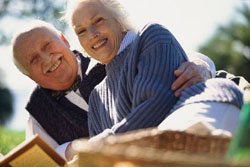 Planning for your retirement years will help you pursue your retirement dreams and maintain your desired lifestyle in retirement. Meet with one of our Advisors today to see how we can set up a plan today to help you pursue your retirement dreams of tomorrow.